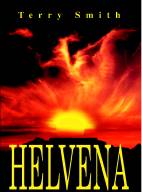 Magnificent Sound explodes from Excruciating silence in Space. God is created from this sound Divine.  He then creates his mate, Helvena. For his perfect love, she gives him seven children. They raise their children into great kingdoms. The Garden of Eden blossoms into seven continents  separated by vast oceans.  When satisfied that their children are  capable of caring for themselves, God and Helvena enter other dimensions. They create new worlds. Returning to Earth, in only moments to them, they arrive in modern time.
God and Helvena appear on the Streets of New York City and introduce  themselves as deities. They are deemed insane.   God and Helvena travel Earth until God  resolves that he needs to speak with his children.
Announced by great thunder, God appears in the sky for  All to see and hear.  He says that human beings are  ridiculous and losing control.  He warns that if they do  not treat where they are as Eden in Heaven, he would punish them as he did dinosaurs. Initially, man runs terrified throughout the streets. In time, he loses his fear and believes that Gods appearance  in the sky was a terrible hoax or extraordinary  terrorism. When fear subsides, there is rejoicing and laughter until moments before
Judgment ~
When man is, indeed, judged.
The outcome of this allegory is a Love Story about God, Helvena, and the Living World.